Hello crafty friends! Let's talk about letter stickers today. Letter stickers have long been a supply in our arsenal as paper crafters. Whether you're a scrapbooker, a cardmaker, or a mixed media artist – letter stickers come in handy for a variety of projects. Today let's take a look at two cardmaking ideas featuring our Big Alphabet Foam Letter Stickers, used in two very different ways!
Mix and Match Stamps and Stickers
For this fun and colorful Hi & Hello card, Laura created a sentiment by mixing and matching a stamped sentiment, with two types of stickers – the Big Alphabet Foam Letter Stickers, plus the ampersand from the Be Happy Sentiments Foam Glitter Stickers. When you mix and match stickers and stamps, the possibilities for creative sentiments are LIMITLESS! (And how much do you love this colorful background?)
Painted Foam Letters!?
WOW! Are these seriously the same stickers as above? They really are! For this bold card, Laura started off with the same Big Alphabet Foam Letter Stickers, but she added paint on them! (Did you even know you could PAINT these letters!?) Here's Laura's advice when painting these foam stickers:
It's tricky to get precise coverage when painting on foam – go for funky and distressed instead! Embrace the imperfections!
Instead of a paintbrush, USE YOUR FINGER! As the colorful coats of paint dry, add some smudges of white and black paint on top for highlights and fun distressed details.
Lightly heat setting the letters will speed the drying process between coats, and it has a bonus effect – it will cause the paint to crack and bubble. Go with it! It's part of that imperfect, distressed look!
What fun ways to use foam letter stickers, don't you think? Both of these ideas would work for scrapbook layouts, planners and journaling, and mixed media art – so whatever your specialty, try mixing and matching or painting foam letter stickers on your next project. (Or do BOTH!) We're so glad you stopped by the FSJ blog today.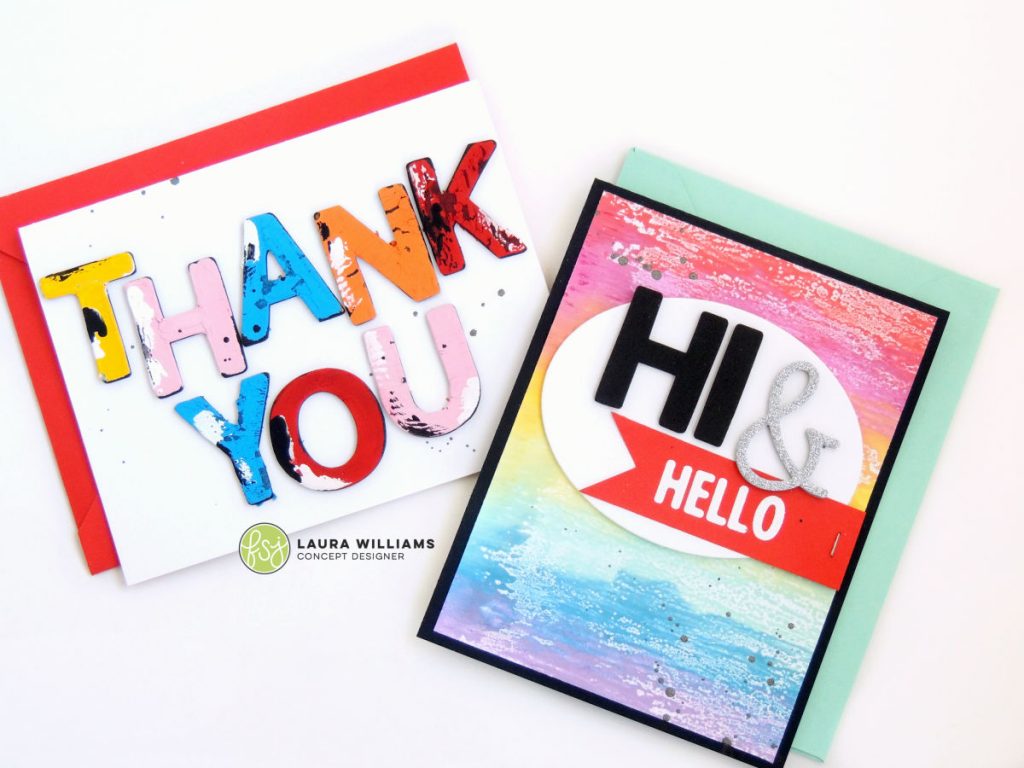 PS. If you love that rainbow background on Laura's Hi & Hello card, stop by her blog and she'll teach you just how she created it, plus you can check out more photos of these colorful projects!