Setting up a Mos Eisley Cantina-inspired drink bar for your Star Wars-themed party is an awesome way to make your celebration super immersive and fun!
1. Design the Space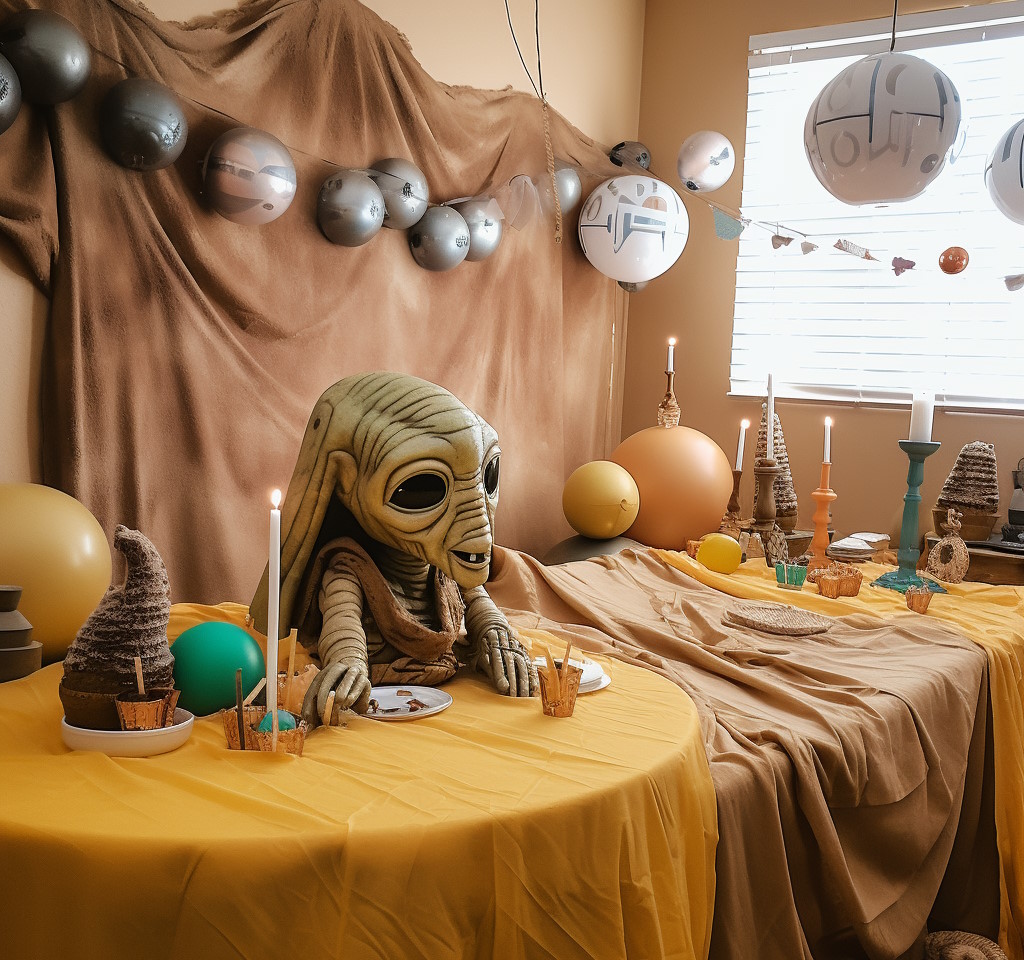 Choose a designated area for your "Mos Eisley Cantina" drink bar. Decorate the space with Star Wars-themed posters, banners, and string lights to create an atmosphere reminiscent of the iconic cantina from the movies.
2. Set Up the Bar
Arrange a table or cart as your drink bar. Cover it with a dark-colored tablecloth or fabric to enhance the cantina look. Use crates or wooden boxes to elevate the drinks and garnishes, adding to the rustic cantina vibe.
3. Create a Drink Menu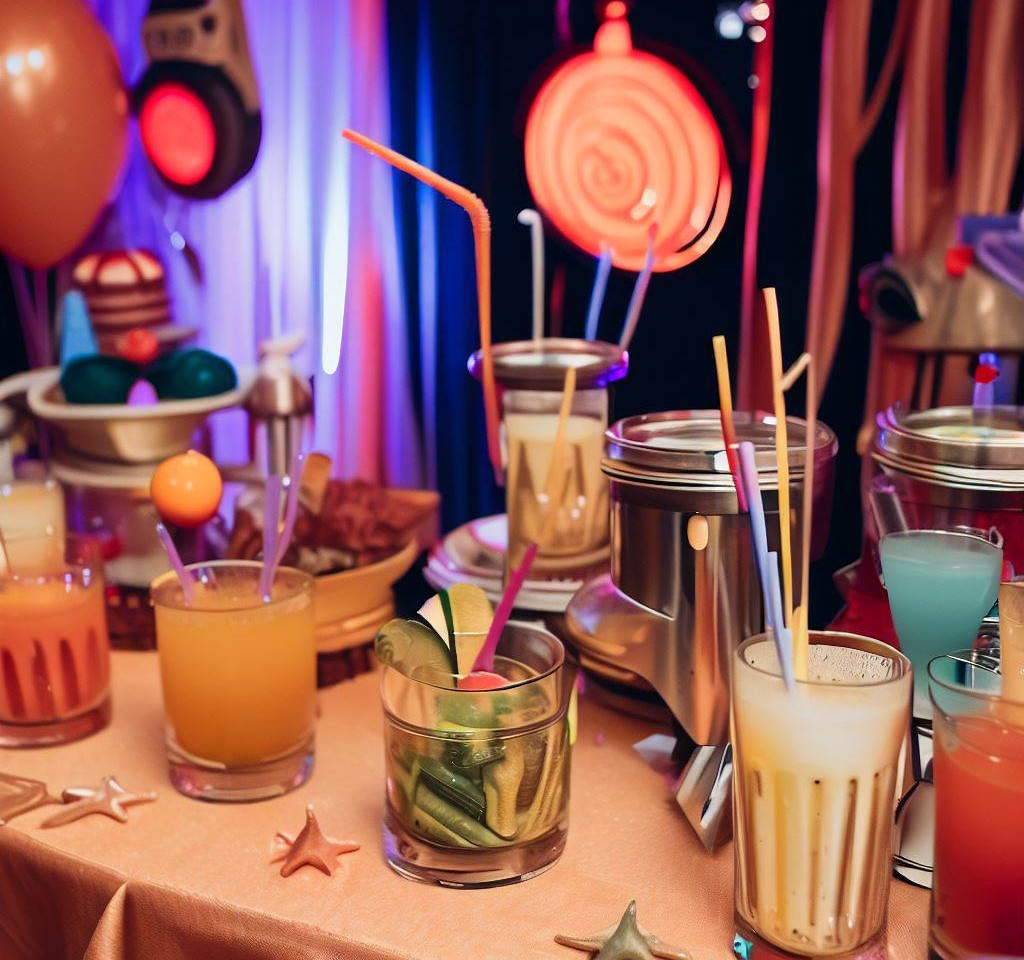 Craft a creative drink menu with various galactic-themed beverages. Give each drink a Star Wars-inspired name and description. Consider serving classic cocktails with a twist, non-alcoholic mocktails, and even some specialty "alien" concoctions. Include an assortment of beverages to cater to all guests. You can serve classic cocktails like "Wookiee Fizz" or "Ewok Elixir" as well as alcoholic options such as "Hoth Toddy" or "Tatooine Sunset".
Ewok Elixir
1 cup Pineapple Juice
1/2 cup Coconut Milk
1/4 cup Banana Puree (mashed ripe banana)
1 tablespoon Honey (adjust to taste)
Ice cubes
Ewok-inspired garnishes (optional): Mini marshmallows, gummy bears, or chocolate chips
Instructions:
In a blender, combine the pineapple juice, coconut milk, and banana puree.
Add honey to the blender for sweetness. Adjust the amount of honey according to your taste preference.
Add a handful of ice cubes to the blender and blend all the ingredients until smooth and well-mixed.
Taste the Ewok Elixir and add more honey if needed.
Pour the Ewok Elixir into individual serving glasses.
Optionally, garnish the drinks with mini marshmallows, gummy bears, or chocolate chips to give them a touch of the Endor forest charm.
Serve the Ewok Elixir chilled and enjoy this tropical and delicious non-alcoholic concoction, perfect for little Ewoks and young Jedi knights!
Wookiee Fizz:
1 cup Cranberry Juice
½ cup Apple Juice
½ cup Ginger Ale (or ginger beer for a spicier version)
Ice cubes
Apple slices and cinnamon sticks for garnish
Instructions:
Fill a glass with ice cubes.
Combine cranberry juice, apple juice, and ginger ale in the glass.
Stir lightly to blend the flavors.
Garnish with apple slices and a cinnamon stick to resemble a Wookiee's belt.
Serve this delightful Wookiee Fizz to your little guests!
Tatooine Sunset:
1 ½ oz Tequila
¾ oz Watermelon Schnapps
½ oz Lime Juice
2 oz Pineapple Juice
1 dash of Grenadine
Ice cubes
Pineapple slice and maraschino cherry for garnish
Instructions:
Fill a shaker with ice cubes.
Add tequila, watermelon schnapps, lime juice, and pineapple juice to the shaker.
Shake well and strain into a glass filled with ice.
Add a dash of grenadine to create a sunset effect.
Garnish with a pineapple slice and a maraschino cherry on a cocktail pick.
Serve and enjoy this refreshing Tatooine-inspired drink!
4. Garnishes and Decorations
Set out various garnishes and decorations to enhance the galactic feel of the drinks. Use colored sugar or edible glitter to create a "space dust" effect for the drink rims. Add Star Wars-themed swizzle sticks, cocktail umbrellas, or drink stirrers for an extra touch.
5. Themed Glassware
Serve the drinks in unique and thematic glassware. Look for glasses or mugs with Star Wars logos, characters, or spaceship designs. Alternatively, you can create DIY glass markers with small Star Wars figurines or stickers to identify each guest's drink.
6. Cantina Music
Play Star Wars-inspired music in the background to complete the "Mos Eisley Cantina" atmosphere. Choose the iconic cantina theme or other favorite Star Wars tunes to set the mood.
7. Character Cameos
Consider having guests dress up as Star Wars characters to make appearances at the "Mos Eisley Cantina" drink bar. Having a friendly bartender in costume will add an extra layer of excitement to the experience.
8. Drink Tokens or Coasters
Create special drink tokens or coasters with Star Wars designs to use as currency at the drink bar. Guests can exchange these tokens for their chosen beverages, adding to the immersive experience.
9. Enjoy the Cantina Experience
Finally, invite your guests to the "Mos Eisley Cantina" drink bar and let them indulge in the galactic-themed beverages and fun. Encourage everyone to interact, take pictures, and savor the unique atmosphere you've created for your Star Wars-themed party.
May the Force be with you as you enjoy the festivities!